Welcome to Creasey Printing Services
Creasey Printing Services is excited to introduce you to our new web site. We invite you to take a closer look at CPS. Navigate through our new web site and explore what sets us apart and keeps our customers happy.
On your tour through our site, you'll learn more about our company and staff and how we strive to bring each of our customers the savings, quality, reliability and personalized service found only at Creasey Printing Services.
With over 30 years of printing experience, our staff has been providing solutions to print buyers nationwide. Our high quality work and exceptional customer service have earned us many satisfied repeat customers. We maintain our goal of delivering the highest quality product and service at the most competitive price
It's very important to us that our customers know whom they're doing business with. Once you take the time to find out what we're all about, we're confident you'll like what you see.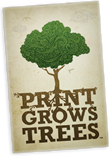 The Environmental Impact of Print: Myths vs. Reality
There are many popular misconceptions about the impact that printed materials have on the environment… read more